The Club Scout III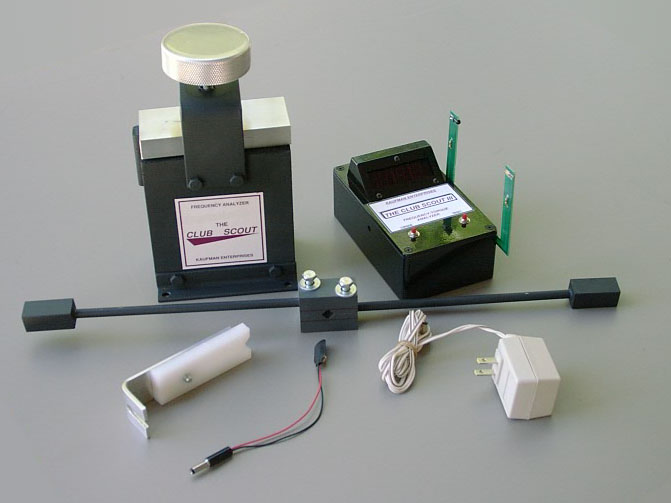 Frequency and Torque Analyzer
To build a precision matched set of clubs a frequency analyzer is a necessity. Torque is also a critical parameter in selecting a shaft, particularly graphite. Kaufman Electronics is proud to offer the Club Scout III to meet the clubmaker's needs. The Club Scout III is a precision microprocessor based golf shaft analyzer that measures both frequency in cycles per minute and torque to a tenth of a degree. The Club Scout III features:
A clamping system which handles both raw shafts or gripped clubs
A slip clutch providing a constant force on the shaft
Separate electronics and clamping units for flexible mounting options
Crystal controlled timing provides precise accuracy
AC power unit provided as well simple provisions for 9 volt battery operation
Attachments provided to measure torque to a tenth of a degree
Beam break shaft sensing technique
Sensing dark graphite shafts does not require any reflective tape on the shaft
Insensitive to fluorescent lights á Complete instructions and fitting charts provided
One year warranty
Torque Measurement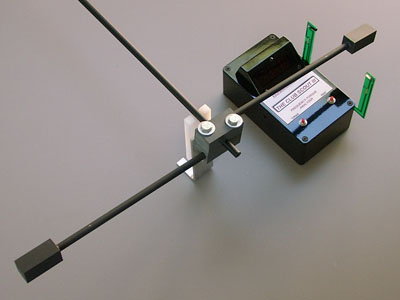 The Club Scout III measures torque of a raw shaft or a finished club by attaching a calibrated torsion arm to the tip of the shaft. The butt end is firmly held in the clamping unit. A support bracket under the tip of the shaft restricts the shaft to twisting motion only. Tapping the end of the torsion arm causes the shaft to oscillate in torsion. The electronics unit measures the torsional frequency and converts it to degrees of torque accurate to 0.1 degrees.
The Club Scout III sells for $339 plus $11 for shipping and handling in the U.S.