A Sports Towel That Cools When It's Hot
Dries when it's wet!
Dry off your golf grips and equipment in foul weather
Keep cool on hot and humid summer days
Great for any sport or outdoor activity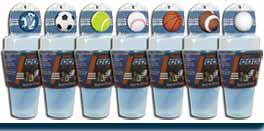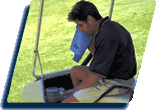 The Sammy Cool 'N Dry® is the towel-with-a-difference that soaks up to six times its own weight in liquid and then holds on to it without dripping. This state-of-the-art towel combines synthetic material prized in the high-tech field for its hydrophilic (literally "water loving") properties with innovative design, creating an ultra-absorbent, drip-free towel that can be easily wrung out and immediately reused.
Waffle textured on one side for cooling, smooth on the other side for drying, the Sammy Cool 'N Dry® is the perfect companion for any sport or outdoor activity. This special towel can be soaked with cool water and worn around the neck or around the head (bandanna-style) with delightfully cool results that many liken to a personal air conditioner. The towel is also ideal for speedy drying off after a dive. The Sammy Cool 'N Dry® comes with a handy and attractive plastic container designed for easy storage. In addition, the container can be partly filled with ice water to add to the cooling effect of the towel.
History

Dr. Sammy Lee, the 1948 and 1952 Olympic platform gold medalist and his wife Roz Lee are the founders of THE SAMMY Sport Towel. In a sport that requires no equipment other than a swimsuit, a little towel has become an accessory no diver can be without. No matter how it's spelled, the shammy has become part of nearly every diver's practice and competition routine. It is hard to imagine diving without it. The shammy phenomenon began in the U.S. in the 1970's.
Original shammies were made from the skin of the chamois, a goat-like animal native to the mountains of Europe and western Asia. As an endangered species, they are now found in Switzerland and New Zealand. Chamois are about 30 inches tall and can weigh up to 100 pounds. Skin colors vary, but all chamois have black and white markings on their faces along with black tails and a black stripe on their back.
The first diving shammies date back to the late 1960s or early '70s. Popularized by divers from Norway and other European countries, these shammies with their absorption qualities, were made of the natural animal skin. A synthetic version, however, was later developed in Japan. Whether natural or artificial, it quickly replaced the bulky towel that had been standard for decades.
Dr. Lee coached the U.S. Team at the 1977 Swedish Cup. U.S. divers noticed a Norwegian competitor using a shammy. Unbeknownst to Dr. Lee, students began calling their coach "Shammy" instead of "Sammy" during practice and warm-ups. The Norwegian diver gave a Shammy to Dr. Lee, who passed it on to his diver, Greg Louganis. Greg instantly thought it was a great product! The similarity with names stuck and the towel's namesake would eventually launch a new business venture.
Uses
Dry off golf grips and golf equipment.
Personal Drying Towel...dries anything fast, drip free.
Absorbs sweat during a workout
Cleans and dries golf carts, shoes, stadium seats, health club equipment, just about anything!
Wear around your neck, over the head, as a bandanna...stays cool in extremely hot weather.
Container fits cup holders in golf carts, refill with ice water to add to cooling effect.
You'll love this amazing product. We used it to dry off wet grips and they were left clean, dry and tacky. It's machine washable and perfect for all sports. Try one for personal use and one for equipment use.
33.25 inches X 13 inches.
Item #cool $14.95 plus $4 USPS Priority Shipping to lower 48.