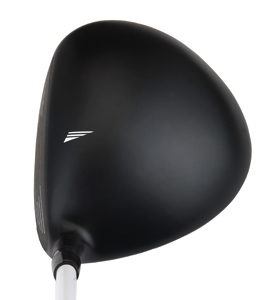 AFO DF Driver
Powerbilt's patented "Nitrogen Charged" technology, comes in our newly designed DF (Deep Face) driver with the thinnest clubface in golf.

Nitrogen N7

Nitrogen Charging is a newly patented method to reinforce the face of the club without adding any weight.
Compressed nitrogen provides tremendous support to the club face so every golfer can benefit from maximum C.O.R., maximum C.T., maximum Trampoline Effect, and Maximum Smash Factor for incredible distance!
---
Clubhead available as component-$169.95 plus $9.95 shipping. International shipping $55.
Assembled $275 with Japanese Spec AT50 shaft. 45 gram, 3.7 torque AT50 shaft in matt black with gold graphics. Same shaft profile as a $350+ Super premium Japanese brand, with premium Toray Japan materials.
Also available with your choice of about any shaft made.
(email for other shaft choices).
Air Force One DF Tour -8.5, 9.5, 10.5, 12.5 in RH.
10.5 and 12.5 in LH. Please order below.
---
Return to Shopping Cart/Finish Checkout
---
---
---
The Clubmaker Report is a weekly email update on the latest golf equipment.
Subscribe to The Clubmaker Report
Return to clubmaker-online.com home

John,

Just got to use my new powerbuilt air force one driver since we we volunteered at the FedEX Cup in Atlanta. Installed a Mitsubishi Kuro kage black 50 with winn dry tech grip. It was at a minimum 20 yard longer than my Adams 9088 UL with the Ahina shaft. Thanks,

John Mc