Enzo Golf Shafts



The zone 60 wood shaft incorporates EnZo's proprietary Driven Zone Technology. A great fit for a variety of players. You can expect a mid to high ball flight with low spin and a very active tip recovery through impact, producing long flat ball flight patterns. Also, works great in fairway woods.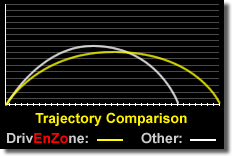 Our price $69.99 plus $9.95 shipping to lower 48. International Shipping $35.
| | | | | |
| --- | --- | --- | --- | --- |
| Specs | A Flex | R Flex | S Flex | X Flex |
| Length | 46 | 46 | 46 | 46 |
| Weight | 65g | 66g | 67g | 67g |
| Torque | 3 | 2.9 | 2.9 | 2.8 |
| Tip | .335 | .335 | .335 | .335 |
| Butt | .610 | .610 | .610 | .610 |
| PTS | 4" | 4" | 4" | 4" |
| Swing Speed | 70-80 | 81-95 | 96-108 | 109+ |
DrivEn Zone Technology
DrivEn Zone Technology is both a scientific and ideological concept created to define the EnZo Golf Shaft brand. Quality, Performance, and Perfection were the words chosen by the company founders to further illustrate our DrivEn Zone standards. Basically, our goal is to provide our customers with a no non sense approach to manufacturing and marketing our golf shafts. Through innovation in the latest technology, the use of state-of-the-art manufacturing processes, implementing only the highest level of modulus materials for use in all shafts, together, creates an unbreakable desire to provide our customers with the highest degree of integrity and honesty. We believe all this will drive EnZo Golf Shafts to the top of the industry.

FILAMENT WINDING
All EnZo Golf Shafts are fabricated using a filament winding technique. Our process involves winding filaments under varying amounts of tension over a male mould or mandrel. The mandrels rotates while a carriage moves horizontally, laying down fibers in the desired pattern of our choice. Each EnZo Shaft uses only high modulus filaments, consisting of carbon fibers that are coated with synthetic resin, and or Nano fillers, as they are wound. Once the mandrel is completely covered to our desired thickness, the mandrel is placed in an oven to solidify (set) the resin. Once the resin has cured, the mandrel is removed, leaving the hollow EnZo Golf Shaft ready for paint and graphics.
Using our filament winding process allows our company unlimited design and playability options. As apposed to "table rolled" or "pre-preg rolled" shafts, our fabrication method demonstrates virtually no shaft "spine". This means our shafts are stronger, can be built lighter, and have less shaft deformation while in use. All this translates into a faster shaft recovery through the hitting zone providing optimal consistency and greater distance.
Return to Clubmaker Online Home
---

Email us for a quote assembled with your favorite clubhead from Alpha, Bang, Geek, Nakashima, MOI, SMT, and more.