KB Steel
Premium Steel Shafts by FST, designed by Kim Braly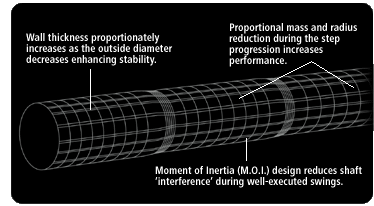 KBS Technology

Golfers have been waiting for years to see a tangible difference in steel shaft design, so FST proudly introduces the KBS Series steel shafts — an all-new premium line of steel shafts engineered by industry-acclaimed steel shaft designer Kim Braly and featuring advanced Moment of Inertia technology.

"Shaft performance is critical in placing the clubhead in the correct position at impact, but most steel shafts on the market today fail to reach the level of performance and feel necessary to respond effectively in the players' hands, especially just prior to impact," says Braly, whose steel shafts designs are currently being played by many of the Top 10 players in the world. "The KBS steel shafts use an intelligent design to upgrade the performance with MOI technology and a proportional reduction in mass and radius during the step progression."

The new KBS Series steel shafts are unlike anything on the market today. FST researched a wide variety of tubular structures that endure large stresses or loads and applied a revolutionary new approach with MOI analysis. KBS steel shafts also incorporate FST's high-quality precision manufacturing processes, such as:

• Exclusive 'Oil-Quench' tempering method which produces shafts that are arrow-straight from butt to tip.
• Tapered tip construction to provide a solid metal-to-metal bond in the hosel and tour-proven feel at impact.
• Higher-than-traditional center of gravity construction to allow for more mass in the clubhead.
• Matching shaft weight and frequency to the strictest tolerances to ensure peak playing performance and guaranteed repeatability.

FST remains exclusively dedicated to the design and development of high-quality steel golf shafts, and KBS technology will re-introduce true performance benefits of playing steel to golfers around the world.

Headquartered in Boulder, Colorado, FST is a leading designer, manufacturer and distributor of high-quality steel gol fshafts, supplied to golfers around the world. TaylorMade, Cleveland, and Tommy Amour's use of FST 's premium steel shafts has earned FST a strong reputation within the golf industry.
---
Return to clubmaker-online.com home