Z Series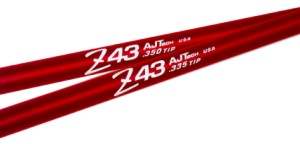 AJ , the recognized industry innovator in lite weight shaft technology, introduces its unique Z series shafts. Weighing only 48 grams, these super ultra lite shafts will increase both your clubhead speed and driving distance. Despite the very lite weight of these shafts, AJ has maintained its characteristic "feel" and high performance that separates AJ from the rest of the pack. The very low torque of 2.9 will give you greater accuracy and a more penetrating ball flight. In addition to the feel and high
performance of these super ultra lite shafts, the Z series has been thoroughly OEM destruct tested for durability. Although these shafts have just been introduced, they have become popular very quickly with several hundred Z's in play on various PGA tours throughout the world.
The Z-335 Series has a mid flex point and is suggested for Callaway drivers.
Z-350 Series has a mid-high flex point for a more boring ball trajectory and is the ultimate TaylorMade 500, R7 or R5 Series, or Ping Driver reshaft.

Suggested Retail-$225, our price $145. Email us for special clubmaker online dealer pricing.
Z Series
Z41 A flex
Z42 R flex
Z43 F flex
Z44 S flex
Z-350 Series
Z41-350A flex
Z42-350R flex
Z43-350F flex
Z44-350S flex