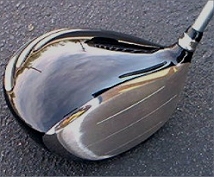 What makes the new BangoMatic so special? First off this head is cast! Casting is 2 to 2 1/2 times more then forging and you must have a tooling made for each loft versus (1) tooling for all lofts on forgings.
Is casting better then forging? No! Just more consistent! But to accomplish what we wanted to which is Flow Alignment (FA) I had to cast.
What is Flow Alignment (FA)? Flow alignment direct more energy from club head to ball with less dispersion. Most Modern day drivers deliver 78% of the proper directional energy toward the ball with 22% dispersion of energy....With the unique Flow Alignment System the energy transfer is 94% directional energy. This makes for straighter and greater....! We also added a bit more weight to the hosel for draw bias and a deeper bore...The head size is 460cc although it looks more like 400cc. We wanted to optimize performance, while have it appeal to to players that dislike Great Big heads
The finished product is Black to match all shafts - 5 coats of Gloss Black non-peel resistant paint. It will include a high quality headcover! When you see the Bang-o-matic you will be truly dazzled by this type of quality in original design.
Right hand or left hand senior lofts: 4.5, 5 (RH), 6, 6.5 (RH), 7.5, 9, 10.5, 12, 14, 16, 18 (RH) 20 (RH).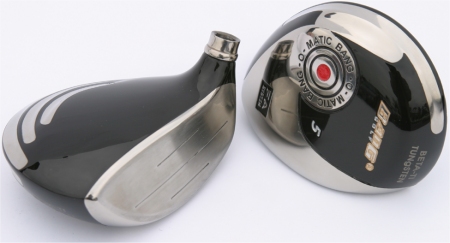 Bangomatic Fairway Woods
At Bang we are truly excited about the Bang-O-Matic fairway woods. Made of the finest Beta Ti and higherst grade titanium available, these are the best performing fairway woods you will ever hit. They are so easy to hit, it's like cheating...but they are legal! I can honestly say they will knock every other fairway wood out of your bag. at Bang, we really outdid ourselves with these puppies. Contact us for an assembled quote with your choice of shafts.
Lofts: RH #3 (15), #5 (18), #7 (23), #9 (27), #11 (31)
Item BOMF: $99
Questions
order
Pricing, all Bang heads.
ST539-$249
Mellow Yellow Square Driver $139.95
Bang Storm $149.95
Bang Storm Offset $149.95
Bangster $139.95
Pink-O-Matic $129.95
All 401cc heads $129.95
---
Graphite Shafts to go with your Bang driver
---
---