Ozik
"The Only One"


New! Ozik HD6 and HD7. Low spin, low launch with new HD technology (16-Cut Hexadecagon Internal Structure (patent pending)).
In the first three weeks out on Tour, Ozik has 4 victories, one on the PGA Tour (KJ Choi), the European Tour, the Japanese Tour, and the Korean Tour!
Matrix Ozik was born from our desire to bring together the world's finest materials, state of the art design techniques, and obsessive craftsmanship, and to mesh them into THE ONLY performance shaft.
Within the Ozik is wrapped Boron from the United States, ballistic Zylon from Japan, and G-MAT from the United Kingdon. Each OZIK is built in the United States using a 12-step, 6-day, 9-person process that insures unmatched symmetry. The process is finished with the first of it's kind soft feel finish.
The OZIK TP-7 or TP-7x features our interplay Hybrid Technology: 118 count Boron sheets are wrapped twice over the shaft's full length at competing angles-for impact stability. Ballistic Zylon surrounds the Boron over the full length-for enhanced feel and recovery speed. The shaft is finished with G-MAT-for consistency and durability.
The OZIK Silver brings together 12" of Boron, full-length Zylon, and G-MAT constructive finishing and puts them in the most aggressive, active lay-up method ever used in a production shaft, bringing unmatched ball speeds. This unique Daniel You design is patent-pending.

The Ozik Hybrid brings tour class performance to hybrid clubs. email for price quote and fitting advice
Ozik Gold- Most stable, most energy transfer ever in a shaft.
Ozik TP-7 = 73-74g, Mid-high/High launch, Mid spin (K.J.'s new shaft)
Ozik TP-7x = 75-76g, Mid-low launch, Low spin
Mfg Suggested: $1,000 email for price quote and fitting advice

Ozik "Silver"-Fastest recovery in a shaft ever.
Constant taper design, unique patent pending lay-up

Ozik Altus = "High and Deep" 73-75g, High launch, mid-low spin. Customer Feedback---- "Diamana 73x or speeder 660tr with more kick"


Mfg Suggested Retail-$400. email for price quote and fitting advice
Flexes on all:

X-Stiff (270cpm)-115 mph plus
Strong (262)-105-115 mph
Stiff (255)-98-105mph
Firm (249)-90-98mph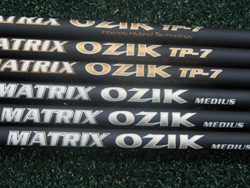 Subscribe to The Clubmaker Report