The Clubhead: Bangomatic 460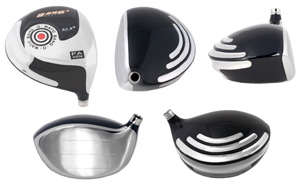 Bang-O-Matic driver holds the record of world longest drive of 539 yards. It also holds the woman's world long drive record of 362 yards, and junior's world long drive record of 400 yards. Bang-O-Matic driver has won 6 world long drive championships since its debut in 2004.

Bang-O-Matic is the first driver featuring the Flow Alignment (FA) System technology design. Flow Alignment directs more energy from the club head to the ball with less power dispersion. Most modern-day drivers deliver only 78% of the proper directional energy toward the ball with 22% dispersion of energy. With the unique Flow Alignment System technology, the energy transfer rate is up to 94%. This contributes to a straighter and farther drive! USGA Conforming.
Specifications: 59 deg lie, 59.1 face height, 99mm face width, 63mm bore, Bulge/Roll 10X11 inches, i.d. .335, od 12.5mm, 196g (+/-3),
Msrp. $159.00
Right hand or left hand senior lofts: 4.5, 5 (RH), 6, 6.5 (RH), 7.5, 9, 10.5, 12, 14, 16, 18 (RH) 20 (RH).
The Shaft:
Our senior longdrive shaft offers pure energy for pure power! The senior longdrive shaft is made for a player that has a smooth swing and long tempo. It is very easy to feel and work and senior golfers can benefit from the responsive tip section. Our shafts are roll-wrapped exclusively with premium aerospace-grade, unidirectional high tonnage carbon fiber and epoxy prepreg tape. These shafts are manufactured under the most stringent and exacting quality control measures in the golf shaft industry. Each step in the production of our senior longdrive shaft is carefully monitored and incorporates our proprietary "Pressure Plus System" process, which results in a shaft so consistent that we guarantee a frequency of +/- one cycle per minute and considered by many of the world's best club makers and players to be the most consistent in the industry.

Our final in-plant quality control measures includes active analysis of selected shafts in an oscillation analysis testing device that rotates and flexes shafts to verify the cycles per minute (CPM) frequency, torque, ratio between the tip-to-butt (aspect ratio) characteristics.
"Because of the strength and consistency of our shafts, we are one of only two companies that have met Japan's highest standards of +/- one cycle."


Shaft Specifications: 48", 56g (L flex, avg. drive 150 yds) 59g (A flex, avg. drive 190, ), 62g (R flex, avg. drive 220 yds). 4.2 torque, mid/low kick point, 65g (S flex, avg. drive 250+, 3/8 torque)

Grip: We use a 39 g grip with air-cushioned absorption design that continues to set the grip standard in comfort and control for over two decades. Because of it's soft supple feel it is preferred by golfers in need of arthritic relief. 39 grams. +1/32" oversize when installed. This lightweight grip is critical in keeping the overall club weight under 300 grams for

If you prefer to build your own, please email me for order instructions and price. We also offer the Senior Longdriver with the Geek Golf FS3 (add $50 for FS3) clubhead (click here for testimonials). Email me for prices and order instructions.

For the ultimate senior longdrive club, consider upgrading to an AJ Tech shaft. They're 49g, 2.6 torque and made from the same materials as shafts priced at $300+. Finest shaft you can buy. Email me for a quote or to reshaft your current driver.
Special Assembled Price with standard superlight Senior Longdrive Shaft-$225 plus $9.95 shipping/insurance, lower 48. $40 shipping international.

If you find that you can't hit the longer driver, send it back and we'll cut it down to the length you like for free (return shipping charge of $9.95 only).

Order 48" Max USGA Below-
Order 47" Below-
Order 46" Below-

Golf Digest Video with swing tips on hitting a longer, lightweight driver


Please print Bernie's article with special emphasis on hitting extra long clubs for reference and to help during practice on the range.
If you find the 47" or 48" length too hard to control, return the club to me and I'll shorten it to your specifications for $25 including labor, new grip, and return shipping.
Email to special order lower lofts, shorter lengths, stiffer flex shafts, or to substitute a different shaft. Phone 810.923.7396.