SKINS
Fine Leather Headcovers and Golf Products Hand Made in the USA

Leather Headcovers
Accepting holiday orders through November 15. I've updated the design with better leather, new colors, a new softer/thicker faux sherpa liner, and have increased the headcover size considerably. Please Email Me for order information and to discuss your choices.
This link will take you to photographs and information on the new design. I have two additional colors coming this week (chocolate brown and camel) and will add photos asap.
Return to Clubmaker Online home
Club Glove Barrel
Made of supple top-grain cowhide, lined with a thick polyester pile. Simply the finest leather headcover you can buy.
Colors (left to right) Baseball Glove Brown, Grey (no longer available), Black.
Now available in all White and Black with Brown top, Black with Red top, Black with White top.
Also available in alternating panel colors (black and white, black and red, black and baseball glove brown). Email for ordering information.
---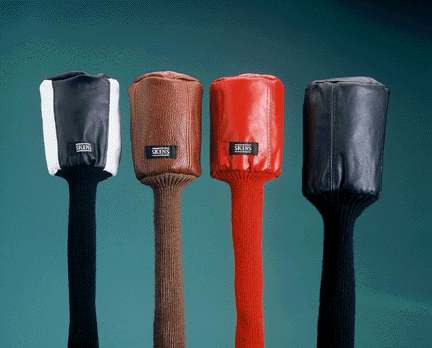 Skins Clubglove in Pure White (above)


Skins Clubglove in Pure White (above)