Last year the Prime Minister of Japan was planning a trip to the US to meet with President Obama.
He knows the President is an avid golfer and wanted to present him with a one of a kind golf gift, a special putter.
The Prime Minister could have chosen any putter made in the world to give as a gift to President Obama, but he chose a Yamada.
A Yamada putter is like no other putter in golf today- each process is overseen by Yamada from choosing the steel to the design of the putter to the hand finishing & balance of the putter. Yamada is a man tormented to provide golfers with the perfect putter.

Yamada putters provide the best feel in all of golf, the main reason is due to the sensitivity of the steel he uses. While most of the bigger companies use a more cost effective harder steel Yamada opts for the more expensive softer steel to provide golfers with more feedback & control with their putting.


Mr Yamada believes the truly good player whether he be Tour Pro or a social golfer wants feedback with their putting. Like with premium forged blade irons, our putters will provide you with the feedback with every putt you make. If you hit in the middle it's the softest feeling you will ever feel.
Exclusive! Our one of a kind Emperor 2 Burning Copper Machine Milled Model.

Email me to discuss the perfect Yamada for your game.

Below you'll find some of the classic Yamada models (no longer available) with descriptions and testimonials of Yamada putters from my customers gathered over the years.
---

Heritage V3
Tour Performance Putter


A putter for those players that crave the ultimate in feedback, performance and true soft touch with their putting.
John,

First of all the Heritage is a beautiful putter, a work of art. I took a few rounds to get used to the extra head weight, but now I really like it. I have a Tour Scotty Cameron "Buttonback" that has a swing weight of E-7 and a head weight of 360. The Heritage you make for me has a Swing Weight of E-8, and a head weight of 365. The Heritage has a very solid feel and at the same time has a soft feel. Two of the performance features of the putter that I like are the slight offset, which helps me align the putter (I grew up playing with a Wilson 8892 blade putter) and the five (5) degrees of loft which I believe helps the ball to roll quicker and better.

In other words, I really like the putter. That is the reason I am getting a second one for a spare.

Merit
Specifications:
Loft: 5 deg., lie 70 deg., length 33", 34", 35", Headweight 365 grams, head color, soft black.
Please order the Heritage V3 below:
---
Wide Blade with Burning Copper
The Ultimate Larger Sized Putter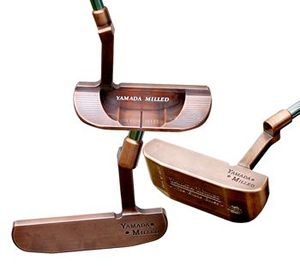 One of the softer bigger sized putters you will ever find, the added weight provides golfers with feedback & added confidence.
Loft: 4 deg., lie 70 deg., length 33", 34", 35", Headweight 380 grams, head color burning copper (super soft feel).
---

Wide Blade Center Shafted Burning Copper
Same as Wide blade model above, new center shafted design.
Loft: 4 deg., lie 70 deg., length 33", 34", 35", Headweight 380 grams, head color burning copper (super soft feel).
---

TX-001
Perfect Blend of Forgiveness and Performance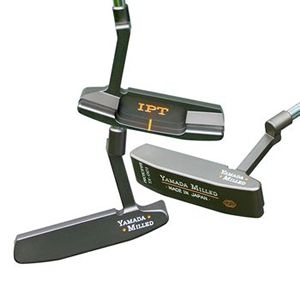 For Those who like a more squared shape and like a nicely weighted perfect feeling putter.
Hi John, the TX-001 is the best feeling putter of my collection and the stroke and the result are just great. I showed the putter to 2 friends and they want the same.. do you have 2 heads soft black in stock ?
Greetings,
Alain
---
Yamada 85029
For Those Who Crave the Perfect Roll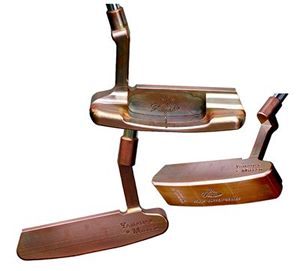 One of the more popular shapes with slightly more weight makes a perfect combination. The ball roll this putter provides is first class. Beautiful burning copper finish.
Loft: 5 deg., lie 71 deg., length 33", 34", 35", Headweight 363 grams, head color soft black.
---
New! Samurai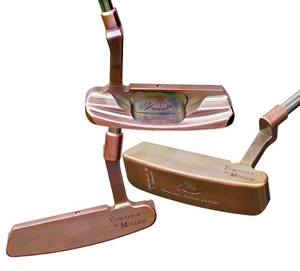 New limited run Tour model. Available in smoke or burning copper.
---

SEV Orange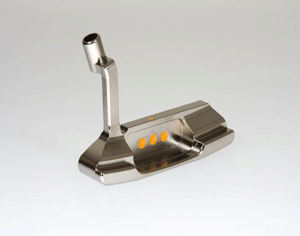 SEV Orange
The perfect blend of performance & forgiveness

With the heaviest head smallest head size & sight dot the SEV is a perfect alignment putter

* Loft : 4°
* Lie : 72°
* Length : 33'', 34'', 35''
* Headweight : 370g
* Head Color : Burning Copper or Smoked


Re: Model SEV Orange
Hi John,

Last thursday I got the package with the putterhead.
I have installed it with the heavy NSPro puttershaft.

It feels fantastic! ...and it looks fantastic!...but the feel is just unbelieveable!!! and great balance.
So thanks for your service, keep those newsletters coming!

Best regards,
Tom

---

Email here with questions on Yamada putters.
---
Machine Milled Models Start Here
Handmade Models Start Here (coming soon)
---
The Clubmaker Report is a weekly email update on the latest golf equipment.
Subscribe to The Clubmaker Report