The Geek Golf
DCT Fairway Wood.
It's brother is the winner of the 2007 REMax
World Long Drive
Open Division.
Special Mention-
2008 GD Hot List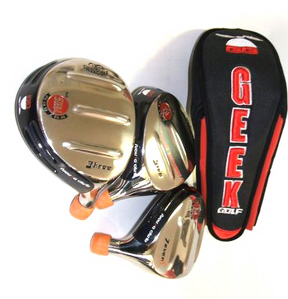 The DCT (Dot Com This) Fairway Woods are original designs! They have a flattened tip rail that sharpens up to 1/8" - centered to lower the Center of Gravity of the head, and pop the ball out of any lie with reduced head flutter.

The unique 3-railed sole design enabled these heads to be played off any surface.

The paint is a dark blue finish that adsorbs light. This aids in glare reduction.

A FREE GEEK GOLF headcover is included - featuring a dual-magnetic drop down flap (patent pending) for easy access to your GEEK GOLF fairway wood.

Lofts are: 3 w 15*, 5 w 18* and 7 w 21*

Component price is $59.00 each, also available assembled with your shaft choice, email for quote.
House of Forged White Shaft-MSRP $99.95. This shaft was used by the 2008 Open division winner (and 3rd and 9th place finishers) and is offered here in a 46" version designed for "the rest of us".
FLEX - These shafts are available in the following flexes: Lady, Senior, Regular, Tour Regular, Stiff, Tour Stiff, X, and Tour X flexes.

WEIGHT – The shaft weight runs from 62-grams to 67-grams (depending on flex).

TORQUE – These shafts have 3.9 true torque

KICK-POINT – these shafts have a 2.06 mid/high kick-point.

.335 tip – all shafts have a standard .335 diameter tip.

Butt OD – the butt outside diameter is .600

PARALLEL TIP – the parallel tip section runs 4.5"

TIP TENSION STRENGTH – the tip tension strength is (firm) at 1.92

OUR INTRODUCTORY PRICE-$79.95. Order below.
Return to Shopping Cart/Finish Checkout

The Aldila DVS golf shaft takes power to a new level. The DVS features an innovative, new responsive tip design for extra kick at impact with an optimum launch. Stabilized with a unique flex profile and very low torque – distance is maximized. Aldila's revolutionary Micro Laminate Technology, enhanced with carbon nanotubes, provides for perfect feel. High performance technology harnessed and perfected into a special blend of weight, torque, flex and feel. Simply put, it's sneaky long.
Aldila DVS Golf Shaft, order below.
$199.00 in R, S or X Flex.

Return to Shopping Cart/Finish Checkout
We'll build a DCT with the new Aldila DVS for a special introductory price of $299.
EMail for help choosing the proper loft and flex.
---
Return to clubmaker-online.com home