SuperFabric Work Gloves
Incredible protection, stopping punctures and tears from sharp, pointed objects such as nails, knives, glass, and more...even against punctures from rose bushes and cactus! Made from a revolutionary new material that delivers more than 25 times the puncture resistance of heavyweight knit gloves and more than four times the puncture resistance of coated rubber gloves.
Garden and landscape work provides many hidden hazards from not only plants and weeds but also nails, glass, fencing, tools such as shears and pruners, and other sharp objects. Clubmakers use scrapers, knives, and all sorts of potentially dangerous tools while doing repair work, these gloves are a perfect high tech solution.
SuperFabric Garden gloves provide superior protection from cuts and punctures in a lightweight, flexible, stain resisitant and washable glove...perfect for gardeners and professional landscapers who work with roses, cactus, thistle, and other thorny plants without worry of getting cut and scratched.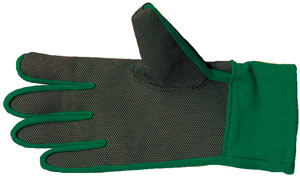 I added these excellent gloves to my line of gripping products at Grip Science after recalling a landscaping accident I had a few years back. I was digging out a small shallow trench in my backyard to install wiring along a fence line and I was cleaning out the trench bare handed. There was a small kitchen paring knife that had been buried along with other junk in the back yard that I wasn't aware of and I cut my hand severly. The SuperFabric glove would have helped to prevent this injury had I been wearing a pair at the time. Discovered that the SuperFabric glove also provides excellent protection while doing clubmaking repairs. They're flexible, offer protection from cuts and punctures from sharp clubmaking tools, and also can be used to handle clubheads after heating for shaft removal. (the gloves are not flame resistant but you can handle clubheads that have been heated to the epoxy breakdown point).
John Muir, Grip Science Owner, November 3, 2002
The gloves were great at protecting hands, as proven by my attempt to cut through the glove with a very sharp knife. I was unable to puncture the glove. I was truly impressed with the gloves' ability to reduce hand injuries.
At this time the gloves are a little bulky for some projects but absolutely great for gardening, especially around thistles and roses. I used the gloves with great success in picking up a lot of
scrap lumber with protruding nails. I could feel the nails slightly, but there was no injury or pain.
Lon Grossman, Detroit Free Press, October 6, 2002

Incredible protection, even against punctures from cactus
$35.00/pair plus $5,95 shipping/handling
Item: SUPERFABRIC
Small, Medium, Large, X-Large
Also available: Superfabric Arm Guards. Single piece construction wraps securely around thumb and up the forearm for added cut and puncture protection up to just below the elbow. Soft, flexible, and comfortable.
$35.00/pair
Item: Armguard Pair
Medium or Large:
Superfabric Garden Gloves and Armguards are highly effective at stopping punctures and tears from sharp, pointed objects such as nails, knives, glass, and more. The gloves are puncture and cut resistant, but NOT puncture of cut PROOF. Do not use gloves with moving or serated blades or tools.