Grip Science is dedicated to providing the finest high performance gripping materials for demanding sport and leisure applications.

Itomic Grips from Tacki-Mac
Tacki Mac's ITOMIC grips are not like traditional rubber grips. They are made from a proprietary blend of elastomeric materials that are very tacky with a super soft (but firm) feel. This revolutionary blend of thermo-forming materials is both very durable, and high performing in all weather conditions. ITOMIC grips maintain their tacky feel and new look for years by washing them with warm soapy water.
Star Grips
Out of round is out of bounds.
Star Grips pride themselves in manufacturing premium golf grips to very exacting standards. The Leather-Tac Smoothie grip has the feel and even smell of real leather and will not absorb water. The new Sidewinder grip has a unique "serpentine traction grooves" and is made +/- .5 gram consistency (many manufacturers think +/- 4 grams is ok). Star grips are priced to please, too! There are numerous ways to evaluate the quality of a golf grip and we believe there are 3 major areas that need to be considered. By adopting our seamless true round molding technology we were able to make a quantum leap forward. Star grips are made in the USA. click here for the entire Star grip line.

BestGrip Leather golf grips are engineered to give you an edge where it counts - where you connect to your sports equipment. Everyone knows the advantage of investing in equipment designed for performance. Best Grips takes that advantage one step further providing the best in tactile feel, memory and adhesion and the best shock absorption and comfort.

Best Grip golf grips are the only genuine leather golf grip made in the USA.
New! The 3M™ Greptile™ Gripping Material Golf Grip has been totally redesigned. Try the new grip and a strip of greptile material attached to your golf glove for unmatched gripping power in foul, rainy, damp, and humid weather conditions.
3M™ Greptile™ Gripping Material uses 3M's patented microreplication technology. 3M™ Greptile™ Gripping Material consists of thousands of microscopic "gripping fingers," which inter-connect with each other, or with virtually any other surface, to provide a better grip that's not locking.

3M™ Greptile™ Gripping Material is quickly turning heads in a variety of sports applications.

NASCAR drivers are using steering wheels made with 3M™ Greptile™ Gripping Material, cycling enthusiasts use Pearl Izumi gloves and handlebar grip tape for better handlebar control, reduced hand fatigue and a firmer grip with less effort, professional lumberjack competitors are using a specialized 3M™Greptile™ Gripping Material on high performance gloves, and Connelly Skis, Inc., has incorporated 3M™Greptile™ Gripping Material into a pair of water ski gloves aptly named Sticky Fingers. 3M™Greptile™ Gripping Material delivers superior performance in wet or dry conditions, making it well-suited for water skiing, golf, and many other sporting applications.

We also sell Greptile Grip Strips in 1" bulk strips (1X24 $6.79) to customize your own gloves or if you enjoy experimenting with other applications of this unique product.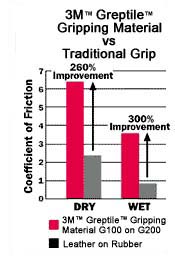 New at Grip Science is the incredible Feel Golf Full Release Grip. Revolutionary does not begin to describe it. With five patents pending, Feel Golf's new
"Full Release" grips are the first major golf equipment design change in over one hundred years! Literally, the first time you wrap your hands around our new "Full Release" Grip, you will know you are holding something different.


Gorilla Gold Grip Enhancer works like the old tar rags on baseball bats but without the mess. Great in humid and wet conditions. Apply it to your glove, hand, or grips for a great tacky, "new grip" feel with every swing.

Sammy Cool n' Dry Sports Towel has been a favorite with Olympic swimmers for years and is now being adapted to other sports uses. A personal sports towel that, believe it or not, cools when it's hot and dries when it's wet. The Cool n' Dry works like a chamois and won't drip, is reusable, washable, and the most amazing product we've seen in quite some time. Use it to dry off wet grips and equipment in foul weather (it left our grips dry, clean, and super tacky). Great cooling towel on hot days. Comes with a specially designed container that fits in most golf cart cup holders. Fill the container with ice water and soak the towel to enhance the cooling effect.

Royal Sand Wrap
Tour Proven Sand Wrap Texture Technology in special limited run gold trim model from Japan. .580 core, 51 gram, ribbed/reminder. $2.25 each.
---
The Clubmaker Report is a weekly email update on the latest golf equipment.
Subscribe to The Clubmaker Report
Return to clubmaker-online.com home