Three World Championships, Three Champions,
One Club...The Alpha C830.2
Carl Wolter 2003 Pinnacle LDA Tour Long Drive Champion, Eric Jones, 2003 REMAX Senior World Long Drive Champion,
Sally Dee, 2003 Pinnacle LDA Women's Tour Long Drive Champion.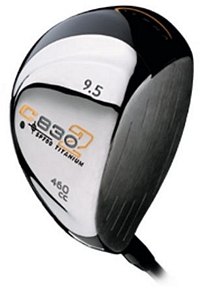 With a new cold forged, maximum oval, increased target design technology and the thin SP700 titanium face, the COR sweet spot is further increased. A larger sweet spot equates to a larger hitting area for incredible distance and forgiveness. Built with your choice of any shaft, email us for help choosing the right combination for your game and for ordering information.
We like the C830.2 with the following premium shafts:

Fujikura Tour Release: $350
Aldila NV: $350 (hot new green shaft from Aldila, British Open Winner
Accuflex V2: $350 (Tom Watson's shaft choice)
Accuflex Evolution Nano Technology Graphite: $350
MFS65n (orange or blue): $325 (KJ Choi's shaft choice)
Penley ETA: $335 (Phil Mickelson's shaft choice)
AJ Tech Raw Red: $350 (new ultra premium 50g shaft from AJ
MuirWoods
Fine Custom Drivers


Clubmaker Online builds the finest ProLine drivers and irons with clubheads from SMT ("The World's Longest Clubhead), Alpha, Nakashima, Bang, Ashton, and Advanced Golf, shafts from the world's finest shaft manufacturers and grips from the top OEM grip companies. We're constantly adding new clubs and try them all before adding them to our "Clubmaker's Choice" list.

The new SMT Spectrum , Babylon (graphite/titanium head) and O2 continue SMT's tradition of excellence. We're taking orders and would love to hear from you and help you choose the perfect shaft for the 2004 offerings from SMT.

We love helping folks (righties and lefties) choose the best possible combination to increase distance and control and to add to your enjoyment of the game. Click here and send us a note describing your game...what problems you're having with your current set and we'll offer you free advice on the best possible combination for your game.
Check out the new Alpha Reaction V2 drivers, and the hot 460 cc Alpha Reaction C830.2 now available at Clubmaker Online!



The World's Longest Driver

The 2002 ReMax Longdrive Champion used the SMT 455 Deep Bore clubhead with an Accuflex Assassin XXX flex 57" longdrive shaft to shock the world with a blast of 384 yards. The World's Longest Driver is now available for both longdrive competitors and weekend warriors. Try this excellent driver with the Apache MFS65n (same shaft that KJ Choi plays, but in midnight blue). Available in 9 subflexes (R1,R2, R3, S1, S2, S3, X1, X2, X3) to fine to the shaft to your game. Another choice is the Apache MFS110. A tour weight (110g) shaft that utilizes a new material designed in conjunction with UCLA scientists. Perfect for higher swingspeed players looking for a control and distance club, built to 44.5 inches. Available in orange or blue, we like the looks of the blue with the beautiful translucent red finish on the driver head. Email for help choosing the right shaft/loft combination.


$275 plus s/h. Item MW-455-65n
$275 plus s/h. Item MW-455-MFS110


Grip Science Forecaster Glove $12.95

Questions
Order


---

Assembled with the Assassin Longdrive shaft: 50", XX, XXX flex or the new Apache MFS Deep (smashing pumpkin). Many other longdrive options available.
Please specify final playing length and flex.

$350 plus s/h.
The Nemesis was used to win the Senior Division World Long Drive Championship and was also used by a competitor to register a 398 yard blast. The "smaller" 370 cc head size is one that many golfers prefer and we match up the Nemesis (now in a beautiful Metallic Silver) with either the Assassin II World Champion shaft (65 grams, 3.5 torque in R,S, or X flex), or the hot new AJ Tech ZMetalTour65 Shaft. The ZMetalTour65 shaft has a new wound metal fiber matrix that is clear coated to show off the metal fibers. Excellent dispersion, feel, and distance with this beautiful new shaft.
$250
Questions
Order
Advanced Golf Technology/Super Nova Fairway Woods-Golf Digest chose the SuperNova as one of "The Hot Ones" in their February 2004 issue, here's what they had to say-
A Fairway Wood Nobody Knows About--Yet.
Two elements define a golf club-material and geometry. Advanced Golf Technology is banking of the former, making the latter less important with it's Supernova fairway woods. Company president Steve Solo has taken Aermet, a steel alloy used in F-18 fighter-jet landing gear, to create what he calls a hotter clubface. He says he knows better players who are putting the 7-wood in play in place of the company's 5-wood and driving with the company's 3 wood. Solo claims that the clubface "elongates"--that's metallurgist talk--better than titanium in a small fairway wood face, creating a high COR. Big companies who've taken a pass on Aermet point out the metal's not stainless, so it requires extra finishing work.
Golf Digest has just released their 2005 Hot List and has named the new Aurora driver from Advanced Golf Technology as "Best new driver you've never heard of, yet".

Alpha
Golf Digest has named the Alpha C830.2 driver to their 2005 Hot List. Calling it "one of the best drivers you haven't heard of, yet". The 260cc C830.2 driver was used by the world's longest drivers at the Remax World Long drive competition in 2004. Alpha has also released the new V2-425 driver head. In designing the Alpha V2 driver, their goal was to create the most accurate, forgiving, and longest distance driver, period.
We think they've succeeded. Available from $295 with AJ Tech, Apache, Graphite Design, Fujikura Speeder, Penley, Harrison, Accuflex Icon V2 or V3, and Aldila NV2.
Leftys' Lair
Face it, there aren't too many places that specialize in fine custom drivers for left handed golfers. We build left handed drivers from KZG, Bang Golf, and SMT Golf and feature some of the worlds' best left handed shafts...(ok, maybe my ad guy got a little carried away) from AJ Tech, Apache, Graphite Design, Penley and more. Email us a short note describing your game, the current club you're using, what you'd like to see in a club, and we'll suggest a combination for your.
Ashton Golf-The Ashton Golf X-1 titanium Driver is the first titanium driver that offers both maximum spring effect and durability for golfers of any level. the X-1 Driver is a precision tool made to the same specs and tolerances as parts manufacturerd for the aerospace industry. Cast Titanium with a beautiful polished moly-ti face. Try the Ashton X-1 with the new Accuflex "Nano" Shafts, Fujikura Tour Release, MFS65, or choose from the thousands of shafts available to us at Clubmaker Online.

Nakashima Golf-metal woods, hybrids, iron sets, and wedges that endure the timeless values of Performance, Beauty, and Craftsmanship. Check out the new H-TEch driver with the interchangeable shaft/hosel design.

Tour Edge Exotics- 2006 Golf Digest Hot List winner.
Questions? Click here
I've personally tried just about every shaft and clubhead combination available at my web site. Send me a note with information on your game, what you are currently playing, what you don't like about it, (too stiff, ball flight too high, etc.) and I'll make a few suggestions to help you find the right club/shaft combination for your game.